11 Ways to Make Money Online Without an Investment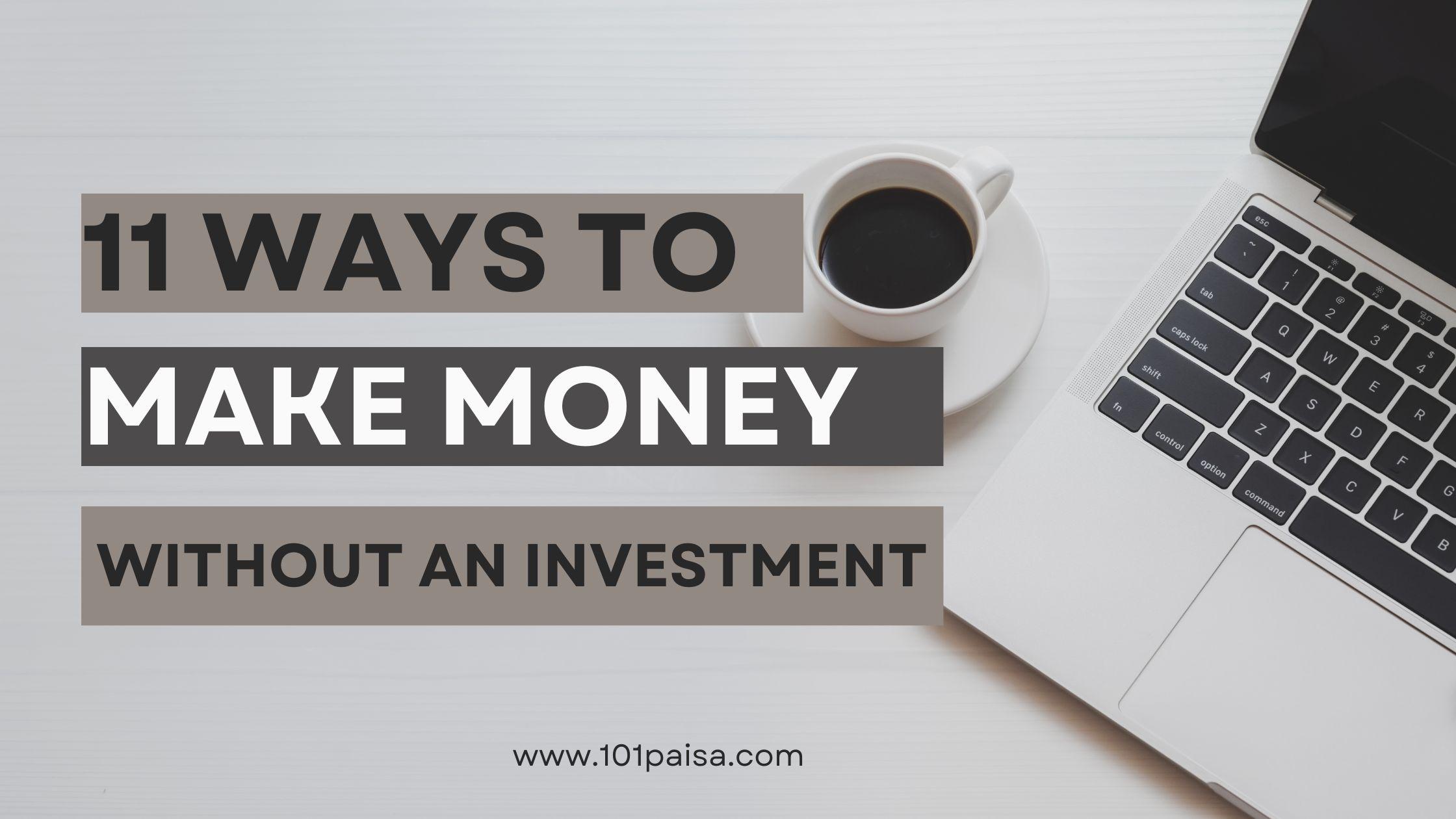 11 Ways to Make Money Online Without an Investment
Are you looking to make money online but can't seem to find the right way? Making money online without an initial investment might seem impossible, but it's not. In fact, there are several ways you can make money on the Internet without spending any money at all. The key to earning big bucks online without spending any money is in your mindset and attitude. If you believe you can succeed, then you'll be able to do it; if you think that it's impossible, then it will be impossible.
So, let's see how you can make money online without investing anything!
1) Sell Unwanted Items
Selling your unwanted items is a great way to earn some extra money. You might have old clothes or other household items that you can sell for cash. You can also sell things on eBay, Craigslist, Etsy, or Amazon.
If you don't want the hassle of listing and shipping things yourself, sites like Decluttr allow you to upload your items in just a few minutes and then print out a prepaid shipping label right from your home! If this sounds like something you would be interested in, check it out!
2) Do Odd Jobs for People in Your Neighborhood
If you're looking for a way to make some money, but don't have any cash lying around, consider doing odd jobs for people in your neighborhood. This is a great option if you're looking for something that's flexible and easy enough to do while you're working on other things or just hanging out with friends.
Plus, this will let you get creative and find ways to make money that work best with your skillsets.
There are plenty of great ways to make money without investing any money upfront!
3) Participate in Research Studies
The best way to make money online without any investment is by participating in research studies. Research studies are the most common type of paid survey on the internet, and they're easy to find!
One of the best sites for finding research studies is Pinecone Research . The site has a point system which allows you to earn rewards for taking surveys, which can be redeemed for cash or gift cards.
4) Sell Crafts or Homemade Goods Online
If you have a knack for knitting, crocheting, or making things out of other people's trash, then you might want to consider selling your products online. The good thing about this particular job is that you don't need a lot of start up money.
In fact, if you already know how to knit or crochet, then all you'll need is some yarn and enough time on your hands. If not, there are plenty of tutorials online that can teach you the basics. And when it comes to setting up your shop on Etsy or Ebay, all it takes is a little bit of research and creativity.
5) Provide Virtual Assistant Services
Virtual assistant services are a great way for entrepreneurs and small business owners to focus on what they do best, instead of spending hours on tasks that can be delegated. There are many different types of virtual assistants, including administrative assistants, social media managers, graphic designers, marketing consultants and more.
The best part about becoming a virtual assistant is that you don't need any previous experience or training; anyone can do it! This means it's also a great opportunity for stay-at-home parents who want to make money while still caring for their children.
This type of work is perfect for people with a background in writing or language arts because these skills are essential in the majority of VA roles. Plus, the flexibility allows you to work around your family schedule.
6) Offer Freelance Writing, Editing, or Proofreading Services
Freelance writing, editing, and proofreading is a fantastic way to make money online without an investment. The process is simple: identify the skills you have, find clients, and get started!
There are many popular sites where you can offer these services, but one of the most popular is Upwork.
7) Do Micro Tasks for Small Payments
There are many ways you can make money online without investing any of your own money. One way is by doing micro tasks for small payments.
You can do this through services like Amazon's Mechanical Turk or by signing up with a company like CrowdFlower that will assign you to a variety of projects, paying anywhere from $0.01 to $1 per task.
While the pay might not seem worth it at first, if you do 50 tasks in an hour and each task only takes a minute or two, then your hourly wage could be as high as $30-$40/hour!
8) Participate in Paid Online Surveys
There are many ways you can make money online without any investment. One way is through paid online surveys. Surveys typically pay anywhere from $0.50 – $1.00 for every survey, and usually take about 15-20 minutes to complete.
If you have time on your hands, this can be a very reliable way of making money online without any risk or upfront costs.
9) Get Cash Back When You Shop Online
If you're looking for a way to make money online without an investment, one of the best ways is by using cash back sites like Ibotta or Ebates. A cash back site is a website that offers rebates on purchases from different retailers. For example, if you shop at Target and use Ebates when you check out, you'll receive a percentage of your purchase price (usually 3-5% off) as a rebate on your account.
You can then cash out your rebate in the form of PayPal or gift cards. The best part about this method is that it's free to sign up and use! There are even apps for both Android and iPhone which make it easy for shoppers on the go!
10) Affiliate Marketing
Affiliate Marketing is a great way to make money online without any initial investment. The company provides products or services and you promote them on your blog, website, or other online properties.
Affiliates are paid for each purchase made through the affiliate link. You can also offer your own products as an affiliate and earn a commission for sales that you generate.
11) Online Tution
Online tutoring is a great way to make money online without investing any upfront costs. It's also a good option for anyone looking for flexible hours, as you can tutor from anywhere in the world with internet access and a computer.
This can be taken as part time and full time work depending on your capability.
Share in comment what method you are using to make money without investment