Strategies for Smart Earning: How to Make Money as a Student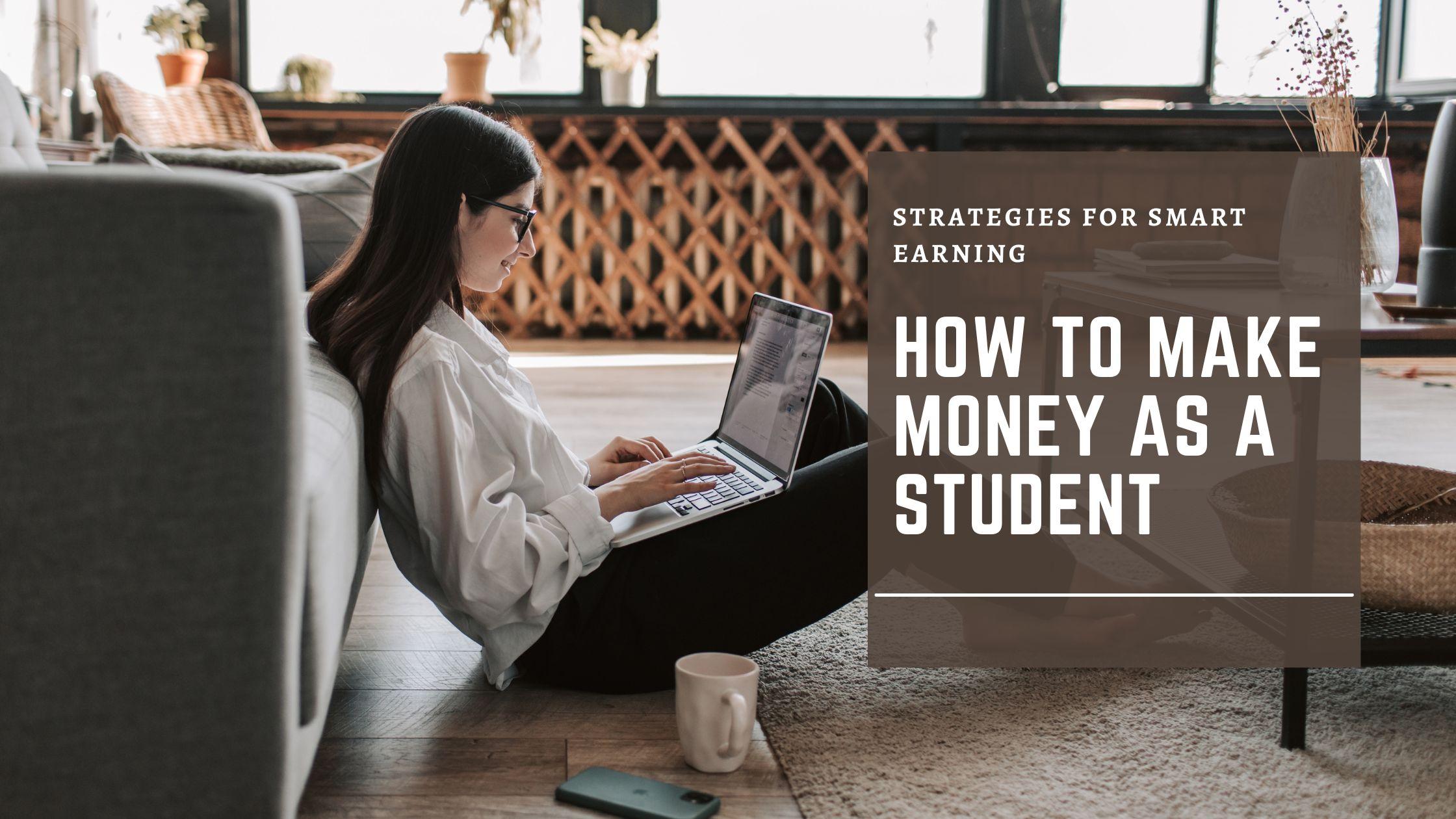 Strategies for Smart Earning: How to Make Money as a Student
Introduction
You're a student, and you need to make money. We get it. You have bills to pay, mouths to feed, and all sorts of expenses that seem to add up week by week. So what are your options?
Fortunately, there are a number of ways for you to make money while you're still in school. You just need to know where to look. In this article, we'll give you a breakdown of the best strategies for making money as a student. We'll also provide you with some tips on how to stay organized and efficient while you're working.
Exploring on-Campus Job Opportunities
There are plenty of on-campus job opportunities to explore. You could work in the library, student center, or even the cafeteria. You could also look into tutoring or mentoring roles. You could even offer your services as a pet sitter or dog walker.
The important thing is to be creative and think outside the box. There are plenty of ways to make money as a student, and it's important to find something that you're interested in and that will work with your schedule.
Harnessing the Power of the Gig Economy
So you're a student and you need to start making some money. Good news: there are plenty of ways to do it. Even better news: many of those ways involve the gig economy.
What is the gig economy? It's an environment in which people work on a project-by-project or task-by-task basis. This can take many forms, from driving for a ride-sharing company to delivering food for a restaurant.
The beauty of the gig economy is that it's flexible. You can work as much or as little as you want, and you can adjust your hours to fit your schedule. This makes it a great option for students, who often have unpredictable schedules and need to be able to work around classes and homework.
There are many gigs out there that are perfect for students. Here are a few examples:
Dog sitting or walking

Tutoring

Writing or editing

Graphic design

Social media marketing
Utilizing Online Marketplaces
There are a number of online marketplaces that allow you to sell your products and services. These marketplaces make it easy for buyers and sellers to connect, and they provide a variety of tools and resources to help you get started.
Some of the most popular online marketplaces include eBay, Amazon, and Etsy. These marketplaces have millions of buyers and sellers, and they offer a wide variety of products and services. They also have built-in features that make it easy for buyers to find what they're looking for and for sellers to manage their transactions.
If you're looking to sell your products or services, online marketplaces are a great option. They provide a convenient way for buyers and sellers to connect, and they offer a variety of tools and resources to help you get started.
Creating Digital Content
Creating digital content is another way to make money as a student, and you don't need any experience to jump in. Whether you're making videos, writing articles, creating tutorials on YouTube, or designing logos and graphics, there are plenty of opportunities available to get your content out there.
The great thing about digital content is that it can be created from anywhere—it doesn't require physical space or time like a job or a traditional business venture would—making it an ideal side hustle for students. And once you've put in the time and effort to create your content, you can start making money from it over and over again with minimal maintenance needed.
You can also capitalize on your existing skill set. Are you an expert on a certain topic? You could set up a coaching practice or series of webinars teaching others what you know. Or if the design is more your thing, start creating custom logos or websites for clients. The possibilities are endless!
Investing Wisely
Investing your money is a great way to make sure you're getting the most out of your earnings. It's never too early to start investing, and with many online platforms, it doesn't have to be daunting.
One option you might consider is mutual funds. These are a collection of stocks and bonds that work together to reduce risk while increasing returns. Another benefit to mutual funds is that they also come in various types, so you can select one that meets your individual needs based on how much risk you want to take and how often you want to invest.
If you want a more hands-on approach, index funds may be right for you. These are invested in a specific index like the S&P 500, meaning they track the performance of an entire market or industry. Index funds offer low fees compared to other traditional investments and may give you better returns than mutual funds since there is less active management involved.
Finally, exchange-traded funds (ETFs) offer diversification options like stocks or bonds – but with lower costs as there are fewer trading fees associated with them. With ETFs, you don't have to pick individual stocks, which can save time and effort – yet still offer good potential returns over time.
Finding Freelance Work
Are you looking to make money by using your talents and skills? Freelancing is an excellent way to do this. What's great about this option is that you can find gigs in a range of different fields, and choose projects that fit your interest, skill set, and availability.
One way to get started is by consulting job boards; here, employers post available gigs and job seekers can apply for them. You could also utilize online platforms such as Upwork, Freelancer, or Fiverr. These platforms allow you to search for specific services or filters like experience level, industry type, budget range, and more—making it easier to find the gigs that match your qualifications. Additionally, these kinds of platforms allow you to build an online portfolio which helps showcase your skills and results in higher chances of landing a job.
Of course, there are other ways of finding freelance work as well. Networking with people in your field could be very helpful in getting jobs and building relationships with people who may be able to refer you for future opportunities.
Conclusion
The best way to make money as a student is to get a part-time job. You can search for part-time jobs on websites like Indeed.com or Craigslist. Once you find a job that you're interested in, you can apply for it and hopefully get hired. Once you start working, you'll start earning money that you can use to pay for your education or other expenses.
Another way to make money as a student is to start your own business. If you have a skill that you can offer to others, you can start a freelance business and offer your services to clients. You can also start a small business and sell products or services that you're passionate about.
There are many ways for students to make money. It's important to find a way that works for you so that you can start earning money and paying for your education.